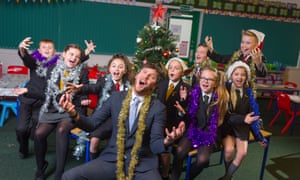 Children who sang during Westminster terror attack win awards
The day of the Westminster terrorist attack in March was the longest day of headteacher Lisa Farley's life. When news of the incident broke, she knew 57 year 6 pupils from her school, St John and St Francis church school in Bridgwater, Somerset, were visiting the House of Commons. Farley tried to reach her deputy, Alexis Piper, who was with them. "I couldn't get through at first. It must have only taken a couple of minutes before I managed to speak to him, but it felt like a lifetime."
Piper and the children were locked down in the main chamber of the Commons with four other members of staff and two parent helpers. "It was only by picking up what was happening on the security guards' walkie talkies that we realised what was going on," Piper says. Then the staff started getting news alerts on their phones. "All we told the children was that someone had been arrested and that we were being kept safe." It was calm inside the chamber and the children were quite relaxed, he says. That's when they spontaneously burst into song.
"Rather than sit around with nothing to do, the children started singing the songs they'd been rehearsing for our Easter service. The songs lifted people's spirits and made everyone aware there were children there. MPs came over to talk to them," he says.
The pupils eventually arrived back at school at 11pm. Next day, psychologists visited and counselling was also offered to staff. "We talked openly about what had happened," says Farley. "The children were very concerned about the police officer who died and for his family. They wanted to record a thank you song to everyone who'd kept them safe, which they put on YouTube."
They received a bravery award from the local constabulary and a letter from the prime minister. "Our pupils shone that day," Farley says.
To honour the children, who left in the summer for secondary school, the school planted a cherry tree in the grounds and put up a plaque, dedicating it to them. "We told them it will blossom every year and that's what we want them to do," Farley says. DF
Vice-chancellor awaits apology from 'McCarthyite' Brexit MP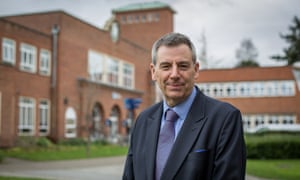 Professor David Green, the vice-chancellor of Worcester University, found himself in the eye of a media storm in October, when he denounced the government whip Chris Heaton-Harris in Education Guardian for sending a "McCarthyite" letter demanding names of academics teaching about Brexit. The story went viral, and No 10 was forced to distance itself from Heaton-Harris. Visits to the university's website went through the roof, and some staff were worried about repercussions from Green's very public stand.
Heaton-Harris, a Eurosceptic, had written to vice-chancellors at every UK university asking for a list of academics involved in European affairs "with particular reference to Brexit", as well as a copy of their syllabus and online lectures. Many academics saw his investigation as an attack on their freedom, and it sparked outrage across the world.
Following the Guardian's story, Green wrote back to the MP saying: "I look forward to receiving your letter of apology for sending me this sinister letter asking me to supply the names of professors. I will do no such thing." He has not received a reply.
The vice-chancellor also wanted to reassure his staff. "We teach science and reason, not propaganda and dogma," he wrote to them. "We should never, ever have our teaching or research prescribed by a government official or minister."
What does he think of claims by Jo Johnson, the universities minister, that Heaton-Harris was simply doing research for a book? "That was dealt with well on Have I Got News For You," he says. "They just laughed at that bit of make-believe."
Green was concerned, though, when his university started receiving requests about its teaching about Brexit under the Freedom of Information Act, including one from a Tory councillor. "I felt some were trying to use the law to stop discussion and debate of important matters," he explains. "I felt a real responsibility, partly because I had received a lot of messages thanking me for speaking up for freedom from people whose families had been subject to persecution."
Although every vice-chancellor received Heaton-Harris's letter, few were prepared to court the limelight and speak publicly, especially with VCs' salaries making headlines. But Green is adamant he did the right thing. "Universities aren't only about education and economic benefit, they are about public benefit, too. It is very important that vice-chancellors are prepared to speak up on the big issues of the day." AF