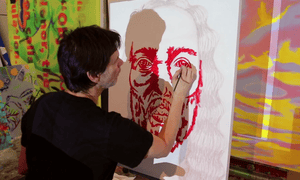 Some celebrity artists put on a perfectly decent performance. Rock stars turn to painting without completely humiliating themselves. Ronnie Wood's portraits of the Rolling Stones are a decent visual diary of the ageing rock 'n roll life and Bob Dylan's paintings give convincing visual form to the landscapes of his songs. But then he is a Nobel laureate. Perhaps musicians are more well-rounded. Maybe actors give so much in their roles they've got no more to give. Whatever the reason, Carrey joins Hollywood's artistic walk of shame.
James Franco knows more than Carrey about the style and language of contemporary art, spicing up his efforts as a painter with video, performance and suchlike fashionable stuff, but this just gives his work a glib faux-sophistication. His art is a shallow pose, from all his "ironically" bad paintings to a daft video he made with greased models posing as Renaissance artworks.
Val Kilmer has a bit of the same pseudo-understanding of contemporary art that Franco exhibits in such devastatingly crass overload. Kilmer makes text-works in the style of Ed Ruscha as well as terrible pop images of his roles as Batman and Jim Morrison. Didn't he already do enough harm to Morrison, whose legend was turned to tack by the Oliver Stone biopic in which he starred?
The superficiality and lack of soul of these actors' art is telling. Los Angeles has a thriving art world and film-star dollars help it prosper. Stars doubtless feel they "know" art because they've got a couple of Warhols and a Ruscha. This is a horrible delusion that encourages the worst kind of unexpressive, oddly impersonal pretentiousness. By contrast, rock stars tend to be much less aware of artistic fashion, and so more honest and heartfelt in their drawings and paintings. A bit of homespun sincerity is better than lurid exhibitionism when it comes to amateur art.
It was not always this way. Once Hollywood nurtured real art lovers and proper artists. Vincent Price was a noted art expert in the 1950s. The tough guy actor Edward G Robinson was such a sensitive collector that his paintings were exhibited at The Museum of Modern Art. Kirk Douglas made modern art real for the film public in his great performance as Van Gogh in Lust for Life. These stars had far too much taste to impose themselves as "artists" on a celebrity-addled market. Instead they used their talent and wealth to support and popularise real art.
[Source"indianexpress"]