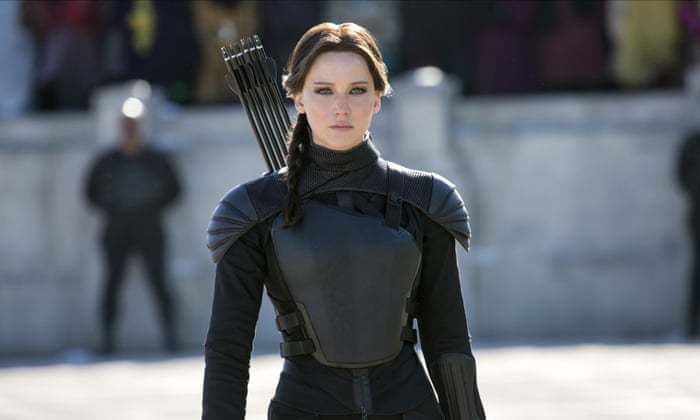 Jennifer Lawrence as Katniss Everdeen in The Hunger Games: Mockingjay made by Entertainment One. Photograph: Allstar/Lionsgate
Entertainment One, the company behind The Hunger Games and Peppa Pig, is braced for a shareholder revolt this week over its chief executive's pay packet, for the second year in a row.
City advisory firms Glass Lewis and ISS are recommending investors vote against the FTSE 250-listed company's remuneration report at Thursday's annual meeting in Toronto, where the firm is headquartered.
The TV and film production company faced one of the biggest protest votes in the City last year, when Glass Lewis criticised its "poor response to shareholder dissent".
Entertainment One paid Darren Throop £1.86m for the year to 31 March, up from £1.68m the previous year. His salary rose to £866,000 from £823,000, while his annual bonus more than doubled to £802,000. The chief executive's salary is set to rise to £950,000 in 2019 and by 7% a year thereafter.
Glass Lewis expressed concern about the "successive significant salary increases" awarded to Throop, while ISS is unhappy about the £7.7m special share bonus handed to the chief executive last year, according to reports..
At last year's meeting, 38.2% of investors voted against the firm's remuneration report in an advisory vote. It narrowly avoided defeat on its pay policy (the special payout to its CEO), which 47.4% of shareholders opposed. That vote is binding and is held every three years. The group was included in the "name and shame" register of companies ordered by Theresa May of firms rewarding bosses with "fat cat pay".
The company defended its payouts ahead of Thursday's AGM, arguing that under Throop's leadership revenues had grown 32%, profit before tax had increased 76% and the dividend had gone up 27% since 2015. It added that it "must bridge expectations" on pay between the UK, where it is listed, and north America, where most of its executives are based.
After talking to nearly 60% of shareholders since last year's meeting, the firm said it had decided to provide providing fuller disclosure on pay in its 2018 annual report.
Entertainment One, chaired by the former Asda boss Allan Leighton, is best known for the hit children's cartoon Peppa Pig but also distributes shows including The Walking Dead and films such as the Twilight and The Hunger Games series.
["Source-theguardian"]