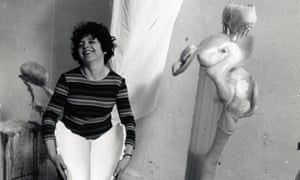 Seeing the work of Alina Szapocznikow for the first time can be a shock. The artist, who died in Paris in 1973 aged 47, was neglected for years outside her native Poland. Only in the past decade has she begun to be recognised with major exhibitions at, for example, the Museum of Modern Art, New York, in 2013, and now at the Hepworth, Wakefield, the first major exhibition of her sculpture in the UK. Perhaps because of this very absence, because she has not been absorbed into the tidy narratives of art history, her sculptures can look as if they have been created by a singular imagination from another world. There are bulbous shapes cast in resin from human bellies, embedded in a sea of polyurethane foam; lipstick-red lips and nipples growing from slender stems like flowers and serving as lamps; shiny boulders of alabaster-like resin from which crushed-up human features emerge – her own cast face. (These last are called "personified tumours", and were made after she was diagnosed with breast cancer, from which she eventually died.)
There is a lot of shine and slime in her work. Things seem to melt and dissolve or, conversely, solidify like lava. A work called Stele – the title a reference to the funerary monuments of classical antiquity – shows a woman's lips, chin and knees protruding from a slab of what almost looks like hardened tar, as if the gravestone has engulfed or consumed, rather than commemorated, a corpse. These are works that are not easy to look at. They make you think, at times, of the fleeting beauty of the body, but also of its leakages and effusions, of what fails to be contained by the skin: sputum, mucus, discharge. They are not polite; they are not what you might call "tasteful".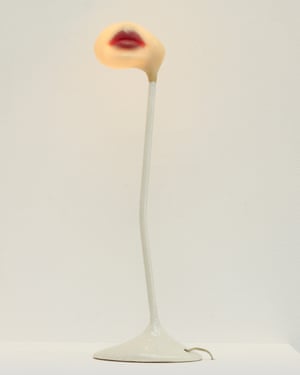 For all that the work can seem alien, Szapocznikow was no outsider: as Andrew Bonacina, co-curator of the exhibition at the Hepworth points out, she was plugged into the artistic movements and conversations of her time, and you can, if you so choose, read her sculpture in relation to pop art, to late‑flowering surrealism, and to neo-realism. Her friends included artists such as César, Annette Messager, the young Christian Boltanski and Louise Bourgeois. She made an exchange of works with the last: Bourgeois kept a pair of Szapocznikow's lip-lamps in her bedroom.
She was a vivid presence on the art scene in Paris, the city where she spent most of her adult life. "She was a fantastic artist and a lovely woman," says her son, Piotr Stanisławski, "but you didn't want to cross her. She could become extremely angry. If you were going to sum her up in two words, they would be 'love and hate'." She was seductive, persuasive, he says.
People ended up "besotted by her charm". Photographs of her in her studio show a woman of intense and buoyant beauty with an utterly disarming grin. Hervé Loevenbruck, the Paris gallerist who manages her estate, says that veteran members of the city's art scene sometimes show up to the gallery and reminisce. "People still speak of her with a tremor in their voices. She left an impression on people's emotional lives."
The story of Szapocznikow's life is so extreme that it can threaten to overwhelm the experience of looking at her art. She was born in Pabianice, Poland, the daughter of a dentist father and a paediatrician mother. Her father died in 1937 from TB; and when Poland was occupied by the Nazis she was interned, with her mother and younger brother, first in the Pabianice and then the Łódź ghetto, where she assisted her mother in a hospital. Later, she was transported to Bergen-Belsen via Auschwitz, where she also worked in a camp hospital.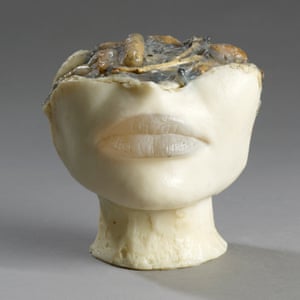 But these were years never to be spoken of – certainly not to her son Piotr Stanisławski, nor is there any allusion to them in her correspondence with her first husband Ryszard Stanisławski. Piotr recalls that he once came home from school to find her "sitting on the sofa looking at a book about the camps. When she heard I was there she snapped it shut and hid it." He asked her why – "after all, I knew what had happened in the camps" – but the subject remained as closed as the book. "Either it was too difficult for her, or she wanted to protect me," speculates Stanisławski. "If she spoke of trauma it was obliquely, through the poetry of her sculpture."
At any rate, in 1944 she and her mother were separated, and – though the precise circumstances are unknown – at the end of the war she ended up in Czechoslovakia, where she changed her name to Šapočniková, claiming that she had been born on the Czech side of the border. She had assumed none of her family had survived (indeed, her brother died in Terezín) but in late 1945 her mother, who had managed to return to Poland, tracked her down to Prague. Meanwhile, she began to study stonemasonry and then sculpture at the Higher School of Arts and Industry in Prague. In 1947 she left for Paris, beginning studies at the Beaux-Arts the following year.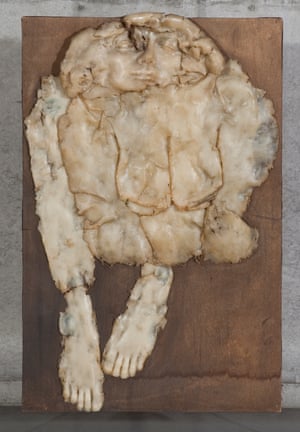 What Stanisławski can only guess at is how and why his mother, who from the age of 13 had lost her childhood to incarceration and unspeakable horrors, took the decision to train as a sculptor. Perhaps part of the answer – a theory that seems borne out by looking at her work – lies in the human body, which she must have seen at its most anguished, fragile and abject during her years as a medic in the ghettos and camps. What is clear is that her early training was, in line with the practice of the times, traditionally classical: she was, in effect, creating bodies, complete and solid bodies made not of frail flesh but of stone. "Perhaps she wanted to magnify the body, to make it immortal, to conserve it," says Loevenbruck.
Szapocznikow began to live the life of the emigree artist – mixing with a group of expatriate Polish intellectuals and writers, studying, travelling on occasion to Prague and to Poland. She met Ryszard Stanisławski, a student at the Sorbonne who switched his studies to art history (and in later life, ended up running a major Polish museum). She almost succumbed to TB in 1950, her life saved by an experimental antibiotics treatment.
["Source-timesofindia"]