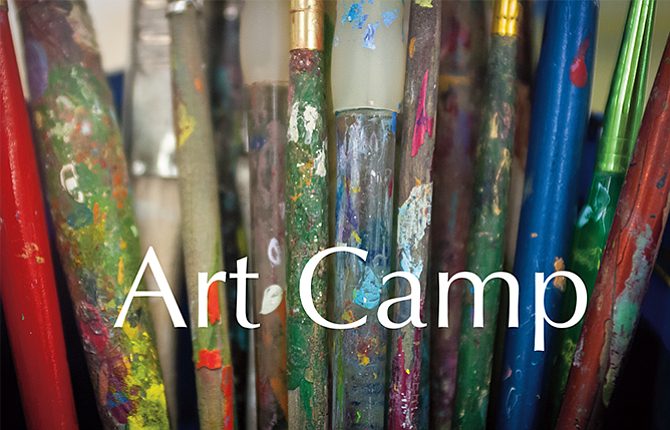 Tell me about your painting," says Hood River artist Sarah Starr as a youngster approaches her with a wet canvas during Summer Art Camp at The Dalles Art Center.
#It's a question Starr asks frequently, allowing the young artists in her class to show her their work and seek advice, or just more paint, without her making any sort of judgement or assumption about their painting.
#"I tend to calm things down," said Starr, who has been teaching classes for youth in The Dalles since 1991 and is trained as an art therapist. "Some kids need centering, quieting. I'm really glad they have a place where they feel they can quiet down, they can just be kids."
#That "place" is the basement of the art center, where Starr has been teaching the fundamentals of art to children as young as age 6. "They are creating, experiencing art, but also thinking about art," she explained.
#It's her final class for the summer — August courses focus more on clay with a fresh set of teachers — and the topic of this class is birds.
#"We are focusing on shapes and composition, thinking about scale and form, even bird predators, protection and conservation," she said. "The kids learn how to use the materials, with a lot of choice in what they paint and respect for their creativity, letting the art evolve."
#Kids often begin the classes with a lot of fear that they, or their art, will be judged.
#"A student said to me, 'You're here to judge us,'" Starr recalls from an earlier class. "I asked him if I was judging him, he thought about it and said 'no.' We all kind of worry about that," she added.
#The "lessons" in each class are short but wide-ranging.
#"Tints are light colors — if you add a dark color like black, that is a shade. That's what we are learning about today, tints and shades," she tells the group at one point.
#"When we are doing our skies today, when we are doing our reflections, we are really going to look carefully at these colors," she adds as the paintings begin to take shape.
#"I break it down into basic skills, like drawing," she later explained. "That's a challenge, even for the professional artist."
#The classes are an important part of community outreach for the art center, said Director Carmen Toll. "A lot of kids aren't athletic, they need to feel there is more to life beyond what they see or experience every day," she added.
#"Our mission statement is 'bringing art and the community together.' The camps really do that for us," she said.
#In addition to community sign-ups, kids are referred to the camp from HAVEN and the Mid-Columbia Center for Living. Many receive full scholarships through the support of several civic groups, including the Masons, the Episcopal Church and Arts in Education of the Gorge.
#"They are just great," Toll said of the sponsors. "If I get more kids, I just call the Masons and they give me the money. They are just amazing."
#This summer, 10 kids are attending on scholarships, six fully sponsored for the summer.
#Back in the morning class, Starr pauses at Carter Vann's table, and they talk about what colors he can find in the photograph of a bird he is basing his painting on.
#"Could I mix one color on your pallet, and show you the colors I see?" she asks, and then quickly mixes a new color, pointing out how she is using four kinds of green and some blue to match the color more closely.
#Vann has attended many of the classes offered this summer for kids age 6-8.
#Starr teaches a substantial number of them, primarily painting classes based on themes like trees, insects, bugs and barns.
#In addition, Artist Jinx Griswold offered a class on creative doodling and another on journaling, and Marcy Huteson taught a class on tie-dye.
#Vann said his favorite class so far was making a tie-dye T-shirt with Huteson. "I wore it yesterday," he said.
#Classes for the younger kids are in the morning and classes for kids age 9 to 14 are in the afternoon.
#Classes at the camp now shift in emphasis from paint to clay and other media for the rest of the summer, with a whole new selection of artists.
#August camps include an all-ages afternoon class on hand-building ceramic techniques over four days, taught by The Dalles artist Yvonne Pepin-Wakefield, who will also teach a two-day morning introductory workshop on painting for younger kids and a general clay class focusing on coil, pinch, slab and texture.
#Lettie Young, artist and director of the camp, will be offering several classes on painting functional ceramic plates and bowls, and two on creating ceramic mosaics. Her final class is titled "Graffiti as Art" and incorporates stencils and spray paint.
#The summer ends with another tie-dye class with Marcy Huteson.
#On average, the camp draws 80 to 90 kids each year, said Young, who has managed the camp for four years.
#"We prefer courses and art that kids won't be exposed to in school," she said. "We do a lot of clay classes because we have a kiln."
#In addition to hands-on creation the classes incorporate the language and concepts of art, teaching kids about design, color theory and perspective, for example.
#"In two classes this summer, we are exploring self-portraits as well," Young added. "Kids are always interested in that."
#The camp is a great place for kids, Young said. "There are a lot of benefits socially, and just getting them into the building, surrounding them with art, is very inspirational. Art education is part of our mission, our vision, and getting kids in is a big part of that."
#Young sees the value of the camp in her own life as well. "I did camp when I was a kid, and now I'm showing in the gallery and working at the center," she explained. Fellow artist April Child also attend the camp as a child, participated in all of the youth shows and was recently juried into the sales gallery at the center.
#Youth shows include an elementary school show in January, a middle and high school show in February, and an Advance Placement show in March.
#Kids attending camp are encouraged to participate in the shows, one of the few opportunities for youth to get their art out into the community.
#Young noted that some kids find camp an important part of their life. One summer there was a young boy who had lost his mother in a car accident, and was in town for the summer with his aunt.
#"We got him a scholarship, and so for three days every week that summer he had a place to be. He made a lot of friends in town, because a lot of kids are here at camp all summer," she said.
#Back in the art center basement, the morning camp ends with a bit of cleanup.
#"Let's get the paper towels with the kernels in the garbage," Starr tells her group (they have been snacking on popcorn). "Water containers into the sink."
#In the bustle of cleanup, Genesis Barjas asks about her scrap-paper drawing. "You can recycle it," Starr answered, pointing out a cardboard box for recycling against the wall. "That was just for practice. Or you can keep it."
#Barjas walks to the recycle box, drawing in hand, then abruptly spins about and returns to her table. "No, I just can't do it," she says. "I'm going to take it home."
 [Source"timesofindia"]