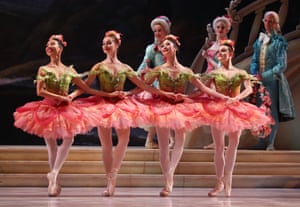 The Australia Council's national arts participation survey is a magnificent exercise. Now in its third iteration, it has proven itself by every measure the most comprehensive study of the cultural tastes and habits of ordinary Australians. With 7,5­37 people surveyed in this year's report, it gives us excellent sample sizes and robust quantitative data – and the headline findings, which were released this morning, are striking.
There is no doubt about it: Australians love the arts and culture.
Participation is high. The report boasts a headline figure of 98% engagement. A whopping 97% of Australians listened to music in 2016. Seventy-nine per cent of us read for pleasure and 81% engaged with culture online.
As a nation, Australians get off our bums and go and see things too: the survey says 72% of us attended an arts event in person last year. More than half (54%) of us went to a festival of some sort.
We also make stuff. Forty-six per cent of those surveyed "creatively participated" in culture, by making art, playing an instrument, dancing or writing. Thirty per cent of us made art and craft for pleasure, and a fifth of the population pursued some form of creative writing in our spare time.
Attitudes to the arts are also highly positive, with the vast majority of respondents (86%) claiming the arts make a positive impact. Most of these figures are either steady or slightly increased from previous surveys from 2013 and 2009.
But it is also true that some of us love culture less than we used to, and more of us are becoming disengaged.
While the top-line data is encouraging, delve a little deeper and some worrying trends emerge. Fewer of us are playing musical instruments. Fewer are reading. And more of us are sceptical about the value of the arts, including of arts funding, than in 2013 and 2009.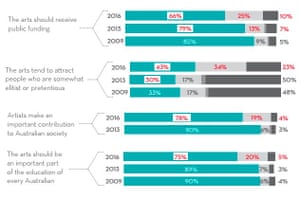 In a breakout box inside the report, social researcher Rebecca Huntley writes that the focus groups she conducted for the survey tended to divide into an "engaged" and a "disengaged" cohort.
Those in the disengaged group who are not supportive of government arts funding tended to position it as an 'either or contest', a choice between funding schools, public hospitals and infrastructure; or funding the arts. This attitude is not surprising given these people are more concerned than others about issues like job insecurity and provision and cost of essential services in their local area.
In part, this may come down to the design of the survey, which universally uses the word "arts" instead of the broader conception of "culture". And what do many people think of when they hear the words "the arts"? They think of the high performing arts – particularly opera, ballet and classical music. Indeed, the report remarks that when prompted about different types of culture (like street art), many respondents were surprised and even delighted to discover that they were much more engaged with culture than they realised.
Even so, there are real warning signs here for Australian culture. According to the report, the last three years appear to have seen a genuine erosion in public goodwill towards the arts, with more Australians now seeing the arts as elitist – as "not for people like me" – and too expensive. Fewer support public funding, fewer believe the arts should be part of our education, and fewer think that artists make a contribution to society.
There are other definitional problems that should not be glossed over, as important as this survey is. The survey ignores essentially all forms of screen-based culture. Movies, television and interactive games are all absent. That means cultural juggernauts like Wonder Woman, Netflix and Call of Duty are all excluded.
The Australia Council will protest that Screen Australia is the government body responsible for the screen industry and the data around it. But that means that cultural participation data is split across two different metrics and surveys, and can't rigorously be compared.
It also creates some very curious exclusions. The survey captures online music streaming through sites like Spotify, for instance, but not online video streaming through YouTube. It captures digital photography and graphic design that people make on their computers at home, but not the time they spend playing interactive games.
This only makes sense if you believe that movies and games are not really "art". The exclusion has more to do with the Australia Council's funding rules than with the tastes and habits of ordinary Australians.
Source"indianexpress"]